Artificial Intelligence (AI) has revolutionised the landscape of content creation, and at the forefront of this transformation lies Jasper AI, a tool that has disrupted the world of digital marketing, social media, and blogging. This comprehensive guide aims to provide an unbiased and in-depth review of Jasper AI, its features, and how it can redefine your blog writing strategy.
Decoding Jasper AI
Jasper AI, is an AI-powered writing assistant that has been meticulously designed to facilitate content creators, marketers, and businesses in fabricating high-quality content. It's a platform that helps in generating a wide array of content forms such as blog posts, product descriptions, marketing copies, and much more.
But what is it that sets Jasper apart from the plethora of AI writing tools available in the market? Can it truly elevate your content creation strategy? This guide will delve into these questions, offering a deep understanding of Jasper. So, whether you're an experienced content creator or a small business owner looking to optimise your content creation, this review is tailored to cater to your needs.
Jasper AI's Features: A Deep Dive
Jasper is endowed with a host of features designed to help you create high-quality content effortlessly. Let's delve into some of these features.
Writing with Your Brand's Voice and Talking Points
One of the standout features of Jasper is the Jasper Brand Voice. It allows users to infuse their unique brand voice into AI-generated content. This feature ensures that all created content aligns seamlessly with the company's brand identity, tone, and style, thereby fostering brand consistency across all forms of communication.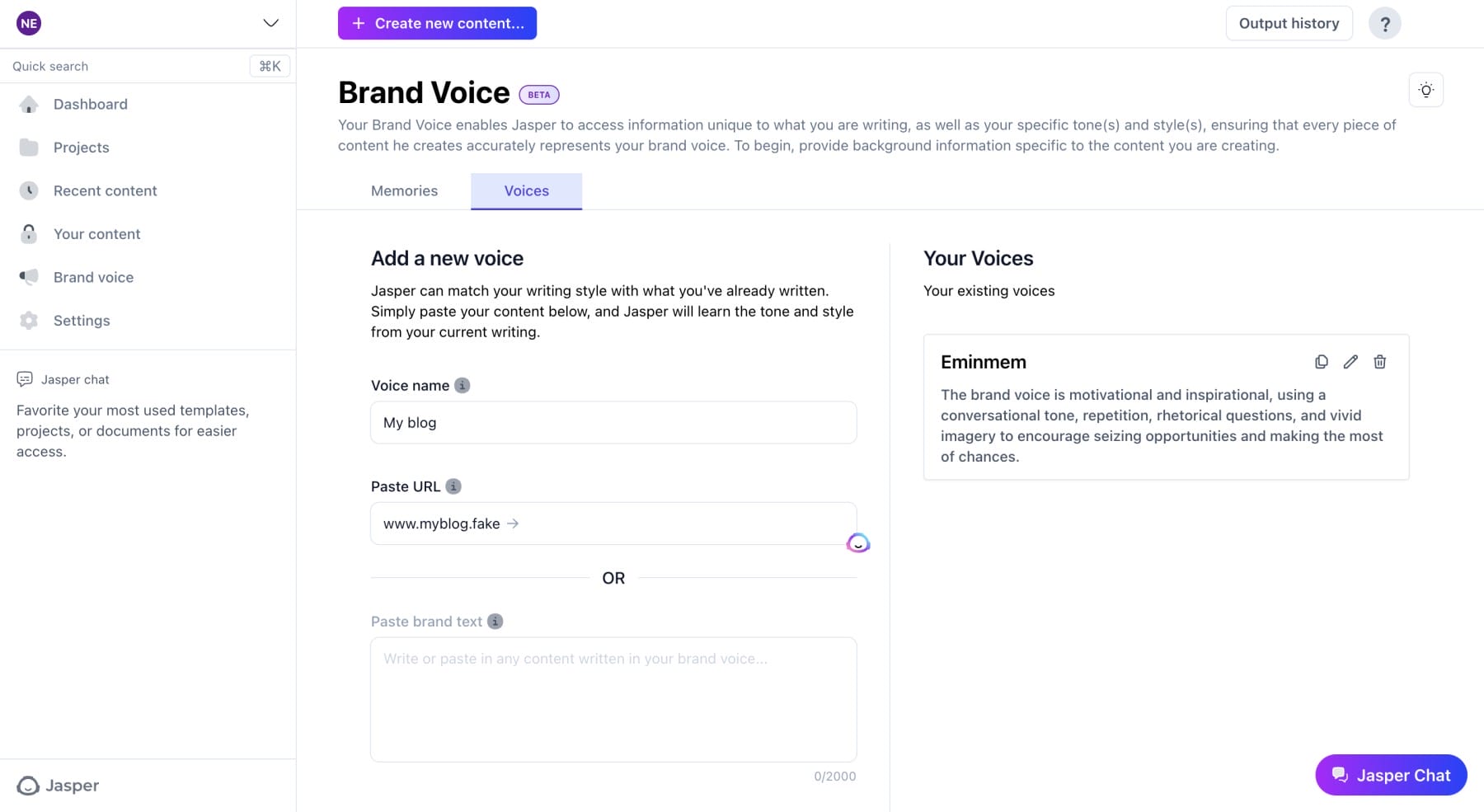 Crafting Effective Product Descriptions
Jasper manifests its versatility by creating an array of content forms. For instance, it can generate compelling product descriptions, highlighting the key features and benefits of a product, making it more appealing to potential customers. This feature is incredibly beneficial for eCommerce businesses that need to create a large volume of product descriptions.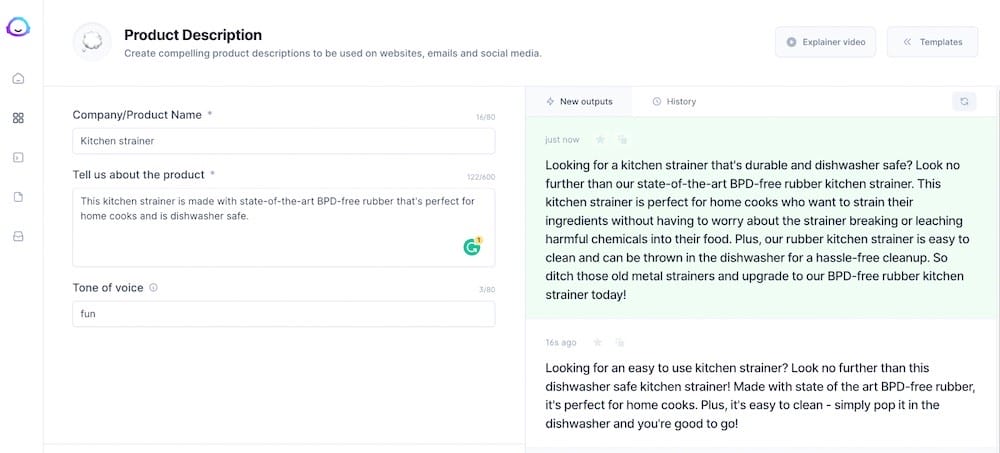 More Marketing Copy Use Cases
Jasper's capacity to generate all forms of marketing copy makes it an indispensable tool for marketers. Whether it's catchy social media captions, persuasive ad copy, or compelling email subject lines, Jasper is a marketer's dream. Moreover, it understands the nuances of different marketing channels and adjusts its writing style accordingly, ensuring that your marketing copy is always on point.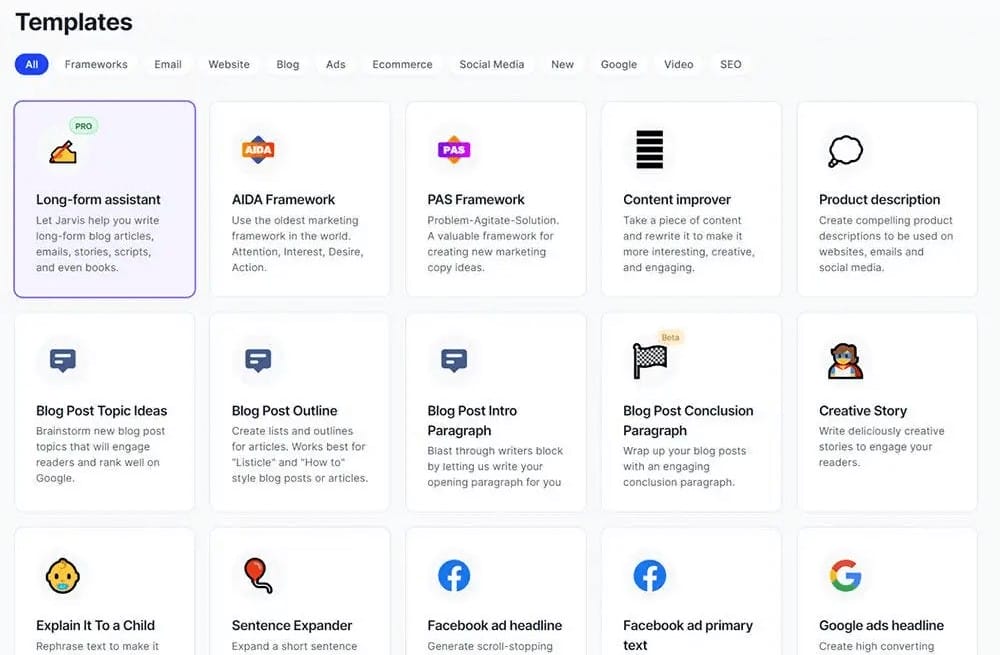 Introducing Jasper Chat
Jasper Chat is an enhanced chatbot that uses AI to provide a more conversational and engaging experience. Unlike traditional chatbots, Jasper Chat can engage in a conversation with users, understanding their intent and providing appropriate responses.

Jasper's Chrome Extension
Jasper offers a Chrome extension for added convenience. This allows you to use Jasper's features directly from your browser, making it easier than ever to generate content.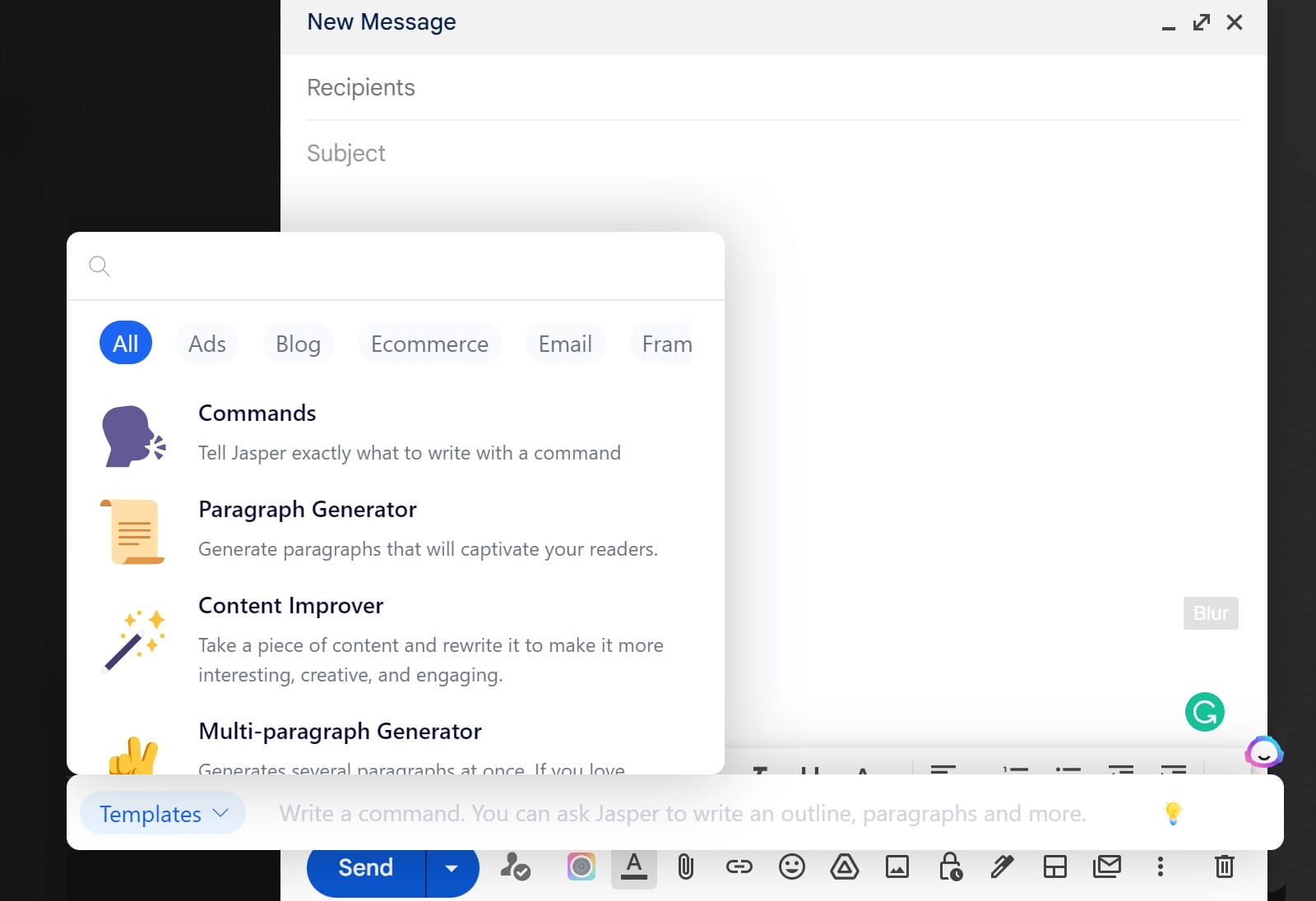 Crafting High-Quality Content with Jasper AI
Jasper serves numerous use cases for content creators and marketers. You can use it for simple one-off content requests or to create long-form content. Let's explore how you can use the document editor to create longer content and then use Jasper's Brand Voice tools to ensure that your content aligns with your channel strategies.
Creating Quality Long-Form Content with Jasper
Let's look at how you can use Jasper to create long-form content:
Open the long-form editor and enter a title: Once you log into your Jasper account, you can start writing content, including blog posts. Click the New document button, and you'll be directed to the following screen. This is where you can start creating your long-form content.
Select a plan: Before you start writing blog posts with Jasper's long-form AI editor, you need to choose a plan. Jasper offers a variety of plans, from the Basic plan to the Teams plan, each with its own set of features and benefits. Select the one that best suits your needs.
Choose the writing mode: Jasper offers two modes for writing blog posts: Freeform and Workflows. Freeform allows you to start from scratch with any template, while Workflows provide you with several workflows for a seamless AI generation.
Start from scratch or use a workflow: If you choose to start from scratch, you will be provided with a blank long-form editor. If you select the blog post workflow, you can configure your blog post template in a step-by-step manner.
Provide a content description: This is a crucial step as the output that Jasper generates will be partially determined by the quality of the content that you instruct Jasper to write.
Write blog post paragraphs: Once you have your free trial activated, you can start writing content with Jasper, including blog posts. Use the Paragraph Generator template to help you create your blog post paragraphs and develop your outline points.
Check grammar: Now that you have finished writing your entire blog post with Jasper AI as your assistant, it's important to check your grammar. Jasper is integrated with Grammarly, which helps you check the grammar of your content.
Publish your blog post: Once you're happy with your blog post, you can publish it on your blog. Remember to optimise it for SEO so it can rank on Google.
How to Use Jasper's Chrome Extension
The Jasper Chrome extension brings the power of Jasper AI directly to your browser. This feature allows you to generate high-quality content effortlessly, whether drafting an email, writing a blog post, or crafting social media posts.
Install the Jasper Chrome extension: To install the Jasper Chrome extension, visit the Chrome Web Store, search "Jasper AI," and click "Add to Chrome." Once installed, the Jasper logo will appear on the browser's top bar or your extensions page, indicating that the extension is ready for use.
Create content with Jasper: Once the extension is installed, you can use it to create content directly from your browser. Whether you're drafting an email, writing a blog post, or crafting social media posts, the Jasper Chrome extension can help you easily create high-quality content across the web.
Pricing and Free Trial
Jasper offers a free trial for new users, providing a taste of the product's features. Although some features are limited in the free trial version, it offers enough functionality to test out the basic capabilities of Jasper AI.
Following the trial period, users can choose from three different paid plans. The Basic plan costs $49 per month and provides access to one user seat and one saved brand voice. The Teams plan costs $125 per user per month and includes additional features. The Enterprise plan is customisable and allows users to access increased limits for a custom price.
All plans now include all features and unlimited generative output, which is a newly added feature. In the past, Boss Mode enabled more words to be generated per month and gave access to longer format content creation. However, with Jasper's new structure, content creation has been enhanced for all users.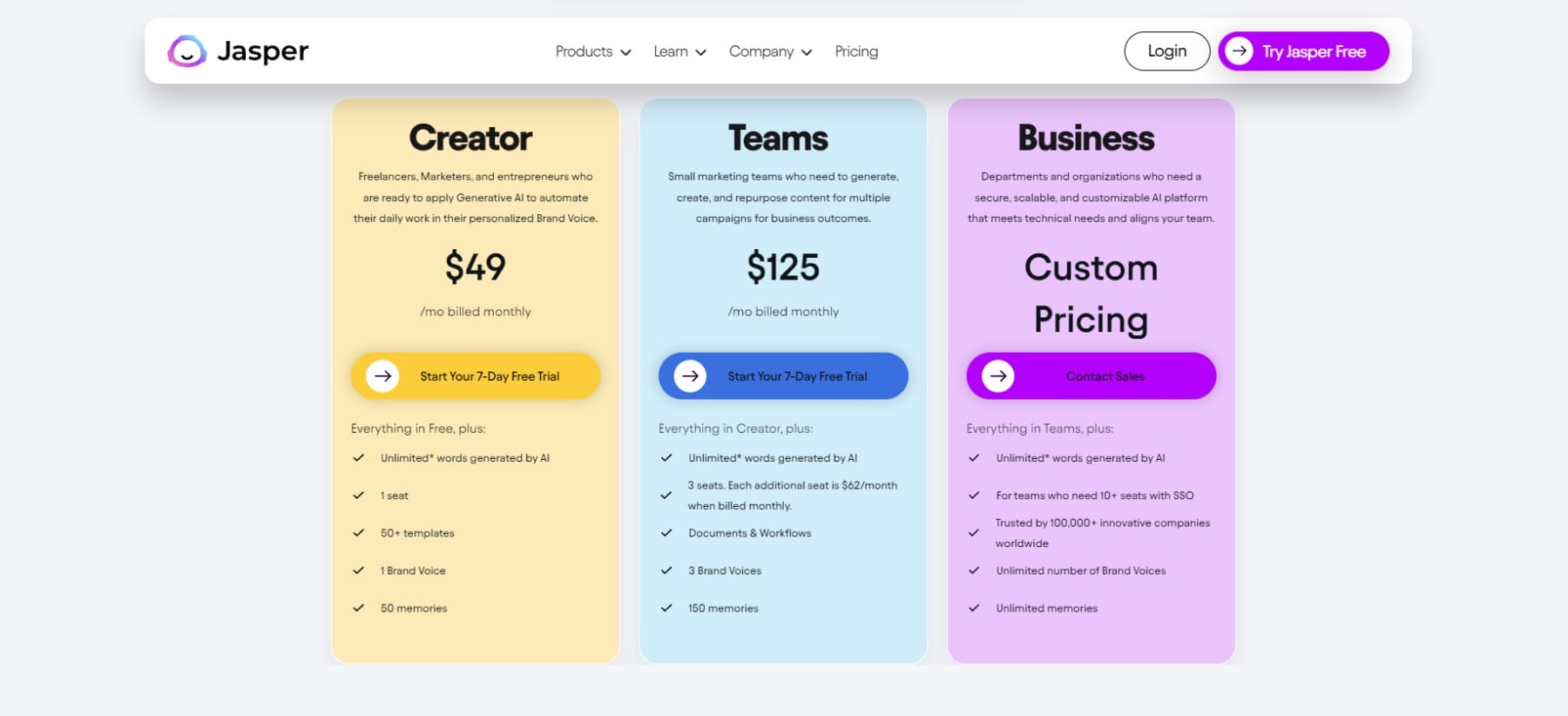 Who is Jasper AI For?
Jasper AI is a versatile tool that can benefit a wide range of users. For small businesses, the task of content creation can often be time-consuming. However, with Jasper, you can streamline the process significantly. Jasper can generate various content, from product descriptions to blog posts, saving business owners valuable time. Moreover, its consistent brand voice ensures that all content aligns with the business's identity, enhancing brand recognition across all forms of communication.
Content writers often have to juggle multiple projects simultaneously, making it challenging to produce high-quality content consistently. Jasper can be a valuable tool in their arsenal, helping them generate ideas, create outlines, and even write entire articles. Its ability to generate long-form content can benefit writers working on in-depth articles or reports. Additionally, Jasper's Chrome extension allows writers to use the tool directly from their browser, making it even more convenient to create content.
Creating compelling copy that resonates with their target audience is crucial for organic and paid marketers. Jasper's AI-powered capabilities can help generate marketing copy that's engaging and tailored to the specific marketing channel, whether it's social media, email, or online ads. Furthermore, marketers can use Jasper's SEO mode to create content optimised for search engines, thereby increasing visibility and reach.
Conclusion
Our comprehensive guide has taken you through the remarkable features of Jasper AI. We've also shown you step-by-step instructions for creating a blog post and setting up Jasper's Brand Voice. We've explored how this AI-powered writing assistant can revolutionise your content creation process, making it more efficient and effective.
Try Jasper Today
Don't forget to explore our other articles on AI technology, where we delve into topics such as AI website builders, AI rewriting tools, and the best AI SEO tools out there. As the world of AI continues to evolve, we're here to keep you informed and equipped with the knowledge to leverage these powerful tools in your content creation journey.
Frequently Asked Questions (FAQs)
Before we conclude, let's address some of your most common questions about Jasper AI.
What is Jasper AI?
Jasper AI is an AI writing tool designed to aid content creation for bloggers, marketers, and businesses. Jasper generates original, top-notch content suitable for blogs, marketing copy, and product descriptions by inputting basic information. It's user-friendly, budget-friendly, and valuable for idea development and content generation, catering to businesses of varying sizes.
Can I use Jasper AI for free?
While Jasper AI isn't entirely free, it does provide a 7-day trial period for new users. This allows individuals to explore and experience the capabilities of the AI writing tool without any initial commitment. After the trial period, users can choose a subscription plan that best suits their needs.
How much does Jasper AI cost?
Jasper AI offers three pricing plans: Basic ($49) with one user seat, Teams ($125/user/month) for enhanced features, and customisable Enterprise for higher limits. All plans now offer unlimited generative output, replacing the previous Boss Mode. Jasper's new structure enhances content creation for all users.
What is the use of Jasper AI?
Jasper AI is a powerful tool used for generating high-quality content. It can be used to create a wide array of content forms such as blog posts, product descriptions, and marketing copies. It's user-friendly and budget-friendly, making it a great option for businesses of all sizes.
How does Jasper AI work?
Jasper AI is a natural language processing tool that uses artificial intelligence to understand human language. This means that it can read and analyse text just like a human can. When you create a new document in Jasper AI, you simply write your topic in natural language. Then, Jasper AI will generate a list of related keywords and ideas that you can use to write your blog post.
Now that you're equipped with the knowledge to leverage the power of Jasper AI, it's time to start writing high-quality, SEO-friendly blog posts faster and more efficiently. Happy blogging!